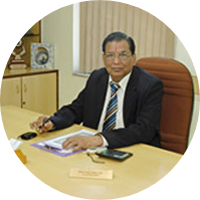 Executive Managing Director & CEO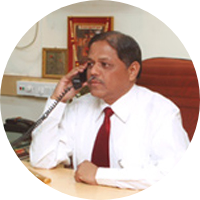 Executive Joint Managing Director
From the Managing Directors Disk
Your company has posted another year of profitable results considering the challenges faced by it in the current financial year. For the year under review the Company recorded total income of Rs. 22741.60 Lakhs and booked profit before tax of Rs. 107.66 Lakhs.
Management Review : 2019-20
The company is in the business of Manufacturing Newsprint, Writing & Printing paper and Kraft Paper. The current year witnessed lot of change in the international paper market and these changes impacted the operations of the Indian paper industry. In the FY 2019-20 the company produced 85,213 Mt of paper as against 85,015 Mt produced in FY 2018-19. In FY 2018-19 the company produced 39,161 Mt (46%) of Kraft paper and 45,854 Mt (54%) of Newsprint & Writing printing paper. In FY 2019-20, the company produced 41,505 Mt (49%) of Kraft paper and 43708 Mt (51%) of Newsprint & Writing printing paper. There was a change in the product mix in FY 2019-20 to take advantage of the market scenario. The turnover was Rs.22741.60 Lakhs in FY 2019-20 in comparison to turnover of Rs. 27553.63 Lakhs in FY 2018-19. However, the Profit after Tax (PAT) of the current FY was Rs. 66.01 Lakhs in comparison to the Rs. 742.07 lakhs in FY 2018-19. The PAT was reduced by 91%.
 Malu Paper Mills Ltd has paper mills strategically located in Central India at Nagpur (Maharashtra). The company is the largest Newsprint manufacturer of Central India with 49,500 TPA capacity and produces quality Newsprint with recycle process. The company has swing facility wherein it can change to Newsprint and Writing paper production at short notice. The company is also in the manufacture of the packaging paper of recycle grade with an annual capacity 50,000 TPA. The positive turn of events in the Indian paper industry in the current year due to changes in the International and Domestic market, Environment and Industrial policy of the government has resulted in favourable changes, which will continue to impact the prospects of the company in years to follow.
Global Paper Industry Scenario
Paper Industry, occupies a prestigious position, among the various manufacturing enterprises, in view of its significant contribution to the Society. Role of paper in promotion of literacy and education, propagation of information and knowledge and in packaging of commodities of commercial value, makes it an indispensable product.
Paper Industry is a significant player in the World Economy. Its annual revenue exceeds US $ 500 billion. World consumption of paper and paper boards grew from 169 million tonnes in 1981 to 253 million tonnes in 1993 and to 352 million tonnes in 2005. Current consumption is in excess of 400 million tonnes. Paper usage has been declining in North America and Europe since 2006 while steeply rising in China and other Asian Economies. About half of the paper produced each year is recycled. (200 million tonnes).
The four key Paper and Board categories are: Newsprint, Printing and Writing Papers, Paper Boards for packaging applications and Tissue Papers & other Speciality Papers. Packaging grades account for over 55% of consumption, printing and writing grades over 32%, tissue papers 8-10% and others about 3%.
Tissue and packaging grades are expected to witness higher growth rates, in future while newsprint and printing and writing grades may witness declining trend.
It was predicted that the outlook for the global Paper and forest products Industry would be 'Stable' based on a boost to income by 2% – 4% over the next 12-18 months.
Higher prices, productivity improvements and synergies from recent acquisitions, as well as stronger wood product, paper packaging and market pulp demand, will drive profit growth. This will be partially offset by lower paper demand and rising freight, labour, energy and chemical costs. Fibre prices, typically the largest input cost for most of the industry's products, will be volatile.
There were healthy gains in packaging and tissue outweighed the slide in graphic paper demand in 2016, allowing global paper and paperboard demand to grow by 1%, or 3.9 million metric tonnes.
China is the largest consumer of paper and boards with more than 100 million tonnes annually. China is also the biggest importer of recovered paper and producer of recycled paper. The Chinese Environment Paper Network (CEPN) has flagged its major concerns like, Pollution of water from untreated mill effluent, unsustainable sourcing of fibre for Mills, imports of pulp from countries causing deforestation, insufficient levels of wastepaper recovery and wasteful use of paper.
Global economy has witnessed a serious health epidemic challenge and the whole world is trying to find its solution. Such a war like situation is adversely affecting almost all the industries of any country. Paper industry being one of the oldest manufacturing sectors in the world, is expected to get badly impacted due to dis-equilibrium between consumption & supply. Manufacturers are facing unique challenges caused by the crisis and forest paper and packaging producers are no exception.
The companies in the sector must navigate the challenge of simultaneously safeguarding employee wellbeing, managing potentially disrupted supply chains and evaluating tumultuous economic and capital market conditions.
Once gravity of these crises will soften, the industry is expected to grow in some or the other form and will catch up with domestic as well as global economy growth.
India's paper production, in the year 2017-18 is estimated at 18.91 million tonnes as per CPPRI. This would put the per capita consumption of India at 15 kgs. Indian Paper Manufacturers Association had estimated the annual growth rate to be 6.82% and has projected per capita paper consumption to reach 17 kgs in the year 2025.
India ranks as the 5th largest producer of paper in the world. However, the Indian Paper Industry accounts for a meagre 4% of global paper demand. The per-capita consumption of 14-15 kgs is significantly lower than the world average of around 57 kgs. India's per capita consumption is considerably lower than China's 65 kgs, Indonesia's 22 kgs, Malaysia's 25 kgs, and of course USA's 312 kgs consumption levels. This indicates the ample scope available for expansion of the Indian Paper Industry.
CRISIL however expects paper demand to grow between 5.5% and 6.5% between now and 2020-21, Demand for paper board is expected grow at a healthy 7.0% – 7.5% over the next 5 years. Printing and writing paper is expected to rise at 4% – 4.5% CAGR against 3.6% between 2010-11 and 2015-16 on account of a likely pick-up from the education sector with improving literacy rates and Government schemes. Specialty Paper is expected to continue growing at about 9%-11%.
The Indian Paper Manufacturers' Association (IPMA) estimates the domestic market sizes to be around 17.19 million tonnes comprising Newsprint 2.6 million tonnes, Printing & Writing Grades 5.0 million tonnes, Packing Paper and Paper Boards 8.7 million tonnes, Tissue 0.17 million tonnes, MG Grades 0.24 million tonnes and others 0.35 million tonnes. IPMA's estimate for growth of the Indian market is 6.5% per annum, with Printing and Writing Grades set to grow by 4.86%, Packing Grades by 8.37% and Tissue by 17.75%.
Paper Companies posted a sharp turnaround in 2017-18 and 2018-19. Domestic paper demand remained buoyant as closure of stressed domestic capacities led to supply constraints. Reduced Raw Material and power prices had aided profit growth.
AS Mehta, President of Indian Paper Manufacturers Association and President of JK Paper, said "due to the Covid-19 pandemic situation since March, both inward and outward supply chains of the paper industry have been totally disrupted, and are yet to fully recover. There has also been a severe demand compression due to the lockdown and closing down of educational institutions, commercial establishments and downstream printers, publishers, converters, stationery services among others."
Even after the lifting of the lockdown, the situation has not improved much with only a small pick-up in demand. The country's paper industry is currently operating at less than 50 per cent capacity utilization due to the sever demand compression and cheap imports flooding into the country.
The paper industry is operating under extremely challenging conditions which have been compounded by substantial quantities of paper being imported into the country at significantly lower costs, especially due to the Free Trade Agreements such as India-ASEAN FTA and Indo-Korean CEPA and other trade agreements like Asia Pacific Trade Agreements, which includes China.
The country's paper sector, which registered a growth of about 5-6 per cent last fiscal ended March 31, 2020, is likely to see a de-growth this financial year with poor sales volumes in the first quarter and the ongoing second quarter, where the situation has not improved much. However, the business may take at least couple of more quarters. In a fair assessment, things may get back to normalcy by next year.
Among various business segments within the paper industry, the packaging industry has fared well across segments – pharma sector, FMCG and growth of the e-commerce business. However, the education, office and commercial segments have been adversely hit.
The imports of paper and paperboards, barring the newsprint into the country, have been steadily increasing. In the last nine years, imports have risen at a CAGR of 11.34 per cent in value terms from ₹3,411 crore in 2010-11 to ₹8,972 crore in 2019-20. The imports as per estimates are growing at a very high rate as compared to the increase in domestic production rate with underutilisation of domestic installed capacity.
However, the biggest hope for the industry is the potential for the per capita paper consumption going up from the present 14 kg to about 17 kg by 2024-25. The global average per capita consumption is about 57 kg.
The industry is hoping that the Covid-19 pandemic fades away and business gets back to normalcy with schools, educational institutions, and commercial establishments functioning normally within couple of months, so that it would trigger industry volume growth again.
During the last decade, China became the focal manufacturing hub for many global business operations. However, after being seriously impacted with COVID-19, global customers mainly from US and Europe started looking at India as an alternative and reliable source of manufacturing.
Government emphasis on avoid plastic packaging and to promote Bio degradable packaging to provide impetus to the packaging industry.
Robust growth in e-commerce, FMCG, Consumer Goods & Pharma to drive paper board demand.
Industry is large and growing domestic paper market and potential for export.
Three Inland Container Depots (ICD) nearby enabling smooth and cost effective infrastructure for import and export of goods.
Government's thrust on education, literacy and environment coupled with increasing disposable income and overall economic growth of the nation.
Most of the domestic manufactures depend upon imported items like Pulp, Chemicals, and Spares. With more and more countries following lockdown procedures as an immediate precaution from such epidemic health hazard there are visible logistic constraints i.e. availability of containers & vessels, increased transit time & cost.
Poor collection of used paper resulting in low recovery rate and undue dependency on imports to meet domestic needs.
Increasing competition from electronic media and digital communication alternatives (for newsprint)
Increasing imports consequent on numerous Regional Trade Agreements (RTAs)/Free Trade Agreements (FTAs) entered into by the government without adequate safeguards.
Fragment nature of industry having small and unorganized industry players.
Segment wise or Product wise performance
The company is a single product company and hence, segment wise or product wise performance is not provided.
Post Covid-19 a huge downturn in the fortunes of Paper Industry is predicted. Ind-Ra expects a decline in paper demand in FY 21, given the hit on demand from packaging, education, corporate and print media sectors due to the prolonged nation-wide lockdown.
Newsprint, Printing & Writing paper segment which is prime grade among company's products is expected to be impacted more severely in the near term.
Indian Paper industry is facing constraint for waste paper availability at reasonable prices.
Over the next five years, the domestic industry is projected to grow at 6-7% CAGR to reach 20 million tonnes by 2022. Packaging paper & board segment demand is expected to grow at a faster pace as compared to Printing & Writing and the Newsprint segments.
The reasons for growth of paper industry in country are continuous demand for education and literacy, increasing organised retail, growth in e-commerce, FMCG, pharma/ healthcare sector, demand of quality packaging, ban on plastic (especially polythene bags) and incremental demand of eco-friendly paper bags, continuously increasing demand of ready-to-eat food and printed stationary.
The demand drivers and growth triggers have come from a combination of factors such as rising income levels, growing per capita expenditure, rapid urbanization and a larger proportion of earning population which is expected to lead consumption and there is enormous potential for the paper industry in the country.
Higher recycling demand will further push the use of paper as a packaging material, with consumers and businesses looking for solutions that help in cost reduction as well as keeping the environment safe while keeping government regulations intact.
Internal Control Systems and their adequacy
The company maintains adequate and effective internal control systems commensurate with its size and complexity. It believes that these systems provide, among other things a reasonable assurance that transactions are executed with management authorization. It also ensures that they are recorded in all material respect to permit preparation of financial statements in conformity with established accounting principles along with the assets of the company being adequately safeguarded against significant misuse or loss. An independent Internal Audit function is an important element of Company's Internal Control System. This is supplemented through an extensive internal audit program and periodic review by the management and the Audit Committee of Board.
Human Resources and Industrial Relations
The Company employs 199 persons in all ranks in its two units as on 31st Mar'2020. The Company continuous to accord the highest priority to health and safety of its employees and communities it operates in.  Further to prevent the spreads of Covid – 19 pandemic, the Company has taken all precautionary measures required at all its plant as well as at office locations.
Executive Managing Director & CEO
(DIN:00301030)
Executive Joint Managing Director
(DIN:00301297)